Obituary for Fulton Nolen Sr.
Fulton Nolen, Sr.
An Everlasting Legacy

This is an Obituary that has taken 98 years and eleven months to build upon. Simply, the Reverend Fulton Nolen, Sr. placed his heart in the hands of the Lord God our Father. He, and his seven siblings were born into a time when men were deliberately cruel. Yet, through faith in the Father God, he sought a better life elsewhere.

Fulton Nolen, Sr. was born on December 20, 1919 in Crystal Springs, Hinds County Mississippi. His mother and father were Lonnie and Kate (Liddell) Nolen, Jr. Economically, granddaddy Lonnie was a sharecropper. His children, during their development, knew of no other viable means for earning income. So, they together, planted, picked and, harvested cotton for their plantation owner. Ironically, grand daddy Lonnie had fought in WW I.

The Reverend earned his high school degree at Lanier high school. He graduated in the summer of 1941 at the age of 22 because as sharecroppers, school was not 9 months of the year. He was drafted into the army on February 16, 1942. His war theater for campaigns began July 1, 1942, they included the Rhineland, Central Europe, Normandy, Northern France, and England. During his travels he capably advanced himself to the rank of corporal. He was honorably discharged on October 4, 1945 due to Demobilization (the end of combat). Upon his release he was awarded two medals: one for Good Conduct and the other, The EAMETO medal. This was aptly dubbed the Victory Medal for the men who served in the armed forces between December 7, 1941 and March 2, 1946 for military service in the geographical areas of Europe, North Africa, and or the Middle East.

Dad returned to a life less exciting and problematic. He took the disrespect until he couldn't take any more. Nicknamed "Mann", he sought opportunities that would take him away from the cruelty of the south. He became a Pullman porter for 18 months. During that time, he scrounged to save his money in hope of purchasing his own land. He did suffer setbacks. However, he went further. He purchased land in the form of a three-story building on the westside of Chicago. He said the army afforded him these opportunities as a benefit of the GI Bill. The Bill allowed soldiers to seek better opportunities upon their return from the war.

Fulton experienced troubles along the way as he traveled to states north and east and west of Mississippi. He had acquired an insight that pushed and drove him to work steadily. He always knew how to work hard, and kept his focus despite all the troubles that were occurring around him.

He spoke of "the cotton-picking competition" between he and Uncle Lucious, who later became his brother-in-law. The unjust, disrespectful results compelled them both to leave the south and go north for a better life. Later all his siblings would gradually become encouraged to go north. They would leave behind the torment of the south and realize their respective ambitions for their families as they pursued their dreams.

Here is a segment from the text "Pioneer, Parent, Patriarch: the times beset with segregation, desegregation, and integration". His motto to me was: Lest We Forget!

Fulton Nolen Sr. believed that Family Values make a life worth living. With family, he had a support-base (relatives). His foundation was to educate and promote the ideals of the family as community. His relatives are the mirror to those values. His watch-words were "you go on out there and bring back the news from your learning so all of us can know what you know. Ya' Hear!".

Dad placed God first. He said, God must be at the center of this fusion. God cannot be something that you refer to when you have a problem. God will see you through your most troubled and most enjoyable times. "Ask Him – Tell Him What You Want. He's on the Mainline!"

Section:
Devoted to the conditioning of how he had become more than a Nolen, he became a man of God through his interactions with many kinds of people with whom he conversed. In Jackson, he would sit and hold court on the porch at Uncle Dallas'(Johnson) auto rebuilding shop. He, too, a legend in Jackson Mississippi.

In Chicago, he would take his thoughts and speak with his family on Wednesday prayer meetings – 1517 S. Central Park Avenue. He would walk Gail and I from 1535 S. Sawyer to the Central Park home. We'd pray for two-hours. Socialize, and then return home. Mind you, he owned a Chevy – but we would walk.

Dad began his preaching at a little-known church on the westside. It was known as the Mount Tabor Missionary Baptist church under the direction of Rev. Latson. Dad worked as his assistant pastor. Dad, the Reverend Fulton Nolen, Sr., later took his talents and placed them in the hands of one Prophet Jones out of Detroit Michigan. His church, the Universal Triumph, Dominion of God, was the place that he undertook a more rigorous training. It was there, under the tutelage of the Prophet, that he became the devout preacher, minister, man of God who we know and love. He converted his home into a parsonage. All who worshipped God were welcome.

On November 20, 2018, he accepted his Savior as he had always sung of His Goodness and Mercy: The Negro spiritual, "I love the Lord, He heard my cry!"

Nolen Lore: Family Values that denote: Industry Perseverance
Industry – Acceptance of hard work as preparation in becoming a young man/ or a young woman. Perseverance – Acceptance of sustainability. Sticking with a job until it is completed. Figuring out the complexities of the task makes you better suited to continue, or, hmmm, knowing when to stop.

One Last Detail:
Reverend Fulton Nolen, Sr. married only twice. He married Delores Griffin in 1947. Divorced in 1958, then they tried it again in 1992. She predeceased him in 1997. Not wanting to be alone anymore, he then married Queen Ester Wade in August 2003. He leaves behind his son, Fulton Jr. (Deborah); daughters, Gail Amelia, and Ann; five grandchildren, Janeen (Terry), Fulton III, Nicole, Felicia, and Dana; ten great-children, Jurne, Fulton IV, Jordan, Richard, Maize, Jesus, Nicco, and Mia; and is still famous in the eyes of numerous relatives from near and from far having been the patriarch for both the Nolen and Liddell families. We will miss him immensely, though his absence is present with the Father God and in our hearts.

SERVICES INFORMATION FOR FULTON NOLEN SR.

VISITATION:
Thursday, November 29, 2018
Time: 3:00 - 6:00pm
Brookins Funeral Home

WAKE:
Friday, November 30, 2018
Time: 10:00 - 11:00am

FUNERAL:
Friday, November 30, 2018
Time: 11:00 - 12:00pm

LOCATION FOR WAKE AND FUNERAL SERVICES:
Trinity United Church of Christ
400 W. 95th Street
Chicago, IL 60628

Interment Immediately Following Services
Abraham Lincoln National Cemetery
20953 W. Hoff Road
Elwood, IL 60421
To send flowers or a remembrance gift to the family of Fulton Nolen Sr., please visit our Tribute Store.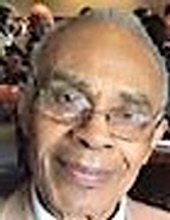 Thank you for sharing your
memory of Fulton
Provide comfort by sending fresh
flowers from our local florist.
No thanks, please don't show me this again.